Fancy owning a waterfront property with a boat dock in Croatia? Explore homes for sale in prestigious locations on the Adriatic coast. By Nikolina Maškarić

Some of Croatia's most unique property types are homes with boat docks. Found across the Dalmatian coast, these exclusive properties provide direct water access to those that enjoy spending time on the private beach and picking up the long ride across the turquoise sea to visit unique Croatian islands.
Make your dream of boat ownership a reality by making the move to one of these spectacular Croatia waterfront homes with boat docks that guarantee life-affirming views of the sea! To help you with your choice we have created a list of 10 amazing homes with boat docks, along with pictures of the interior with luxurious home facilities.
Luxury House with Boat Docks in Trogir
Price: 3.600.000€
Our first choice house with mooring for sale is a waterfront paradise located in the heart of the Dalmatian coast – in Trogir near Split. The amazing two-floor villa with 5 bedrooms and 5 bathrooms is a perfect summer getaway for those that love the smell of the Mediterranean breeze in the morning and enjoy the view over the sea from the bedroom. Plotted over 500m2 the house offers a big courtyard area is surrounded by palm trees and accommodated with a patio for relaxing over a cup of coffee in the afternoon. The first floor of the villa contains a modernly equipped kitchen and a dining area, an area with a fireplace for a warm family atmosphere. The top floor of the Villa is an attic, modernly equipped and designed to function as a separate suite that includes a bedroom and has its own living room with sitting furniture and LCD TV, as well as a small kitchen. The house with boat docks in Trogir has a modern design and is well equipped: sauna, swimming pool, patio, in-floor heating, automatic opening of doors and windows.
This luxury home with private boat docks offers a quick getaway towards the island of Čiovo, Brač, Šolta, and Hvar!
Pelješac Home With Boat Docks and the Pool
Price: 1.500.000€
Set over a 2746 sqm plot, this luxury home with professionally kept and beautiful Mediterranean-style yard is located on the Pelješac peninsula. Isolated from the noise of the town, the stone country house is a beautiful hidden gem, surrounded by tall pinewood and located on the seafront with access to private boat docks and an amazing pebble beach. Outside of the house, there is a rustic patio with a big dining table, a beautiful stone fireplace, and a large pool that settles the place for warm Mediterranean days in the countryside. Following, the inside of the house is accommodated with a spacious living room, a small and well-decorated kitchen, three bedrooms, and two bathrooms. If you are looking for a dream house with mooring for sale, hidden in the tall woods with access to the turquoise sea, this home with private boat docks is your best choice!
Korčula House With Docks and the View of the Sea
Price: 2.200.000€
Are you dreaming of your very own piece of heaven, a modern house with boat docks in Korčula? Welcome to the modern masterpiece that sums up everything you might desire! With its top-end finishes and high-quality architecture, the house with boat docks in Korčula has a stunning view over the bay! The slick aesthetic of this house with mooring for sale in combination with the breathtaking sea views creates a unique living landscape that is not to be missed. Constructed in 2019, this impeccably designed house typifies outdoor/indoor living with an infinity pool on the sprawling lawn surrounded by well-kept flora.
Inside, the contemporary multi-level space spans 180 square meters across spacious-ceiling rooms. The house with private boat docks is spread over two levels, there's a spacious eat-in kitchen with a large table, three bedrooms, four bathrooms, a gym, a sauna, and a garage. The main highlights of this luxury estate are wall to floor glass windows and seamless glass doors, that embrace dramatic views over the sea, enveloping this marvelous home in an airy, light ambiance. 
Home With Boat Docks in Dubrovnik
Price: 2.000.000€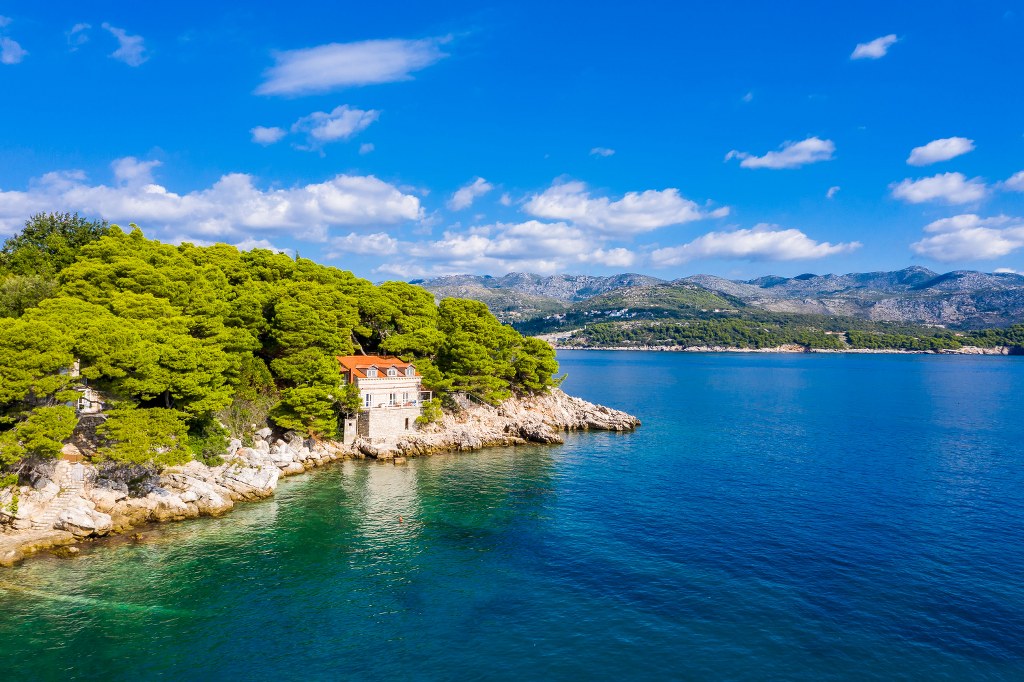 Have you had a dream of waking up next to the sound of the sea, walking up through the wide halls of the old stone house to have breakfast, and breathing in the fresh air while looking at the magnificent small bay? Look no further because this luxury home with boat docks in Dubrovnik might just be exactly what you were hoping for! This fabulous property, a home with mooring for sale, is built in stone and has a large plot size of 1240 square meters ready to be used as a quiet family area or noisy party floor. The slick and contemporary multi-level luxury waterfront home holds 3 sunlit bedrooms with a beautiful view of the Adriatic sea. Inside a luxury house, there are also 2custom-designed bathrooms, an eclectic french style kitchen, and dining with a wide separate living room area.
Luxury Home with Private Docks in Korčula
Price: 2.000.000€
This Mediterranean luxury home with private boat docks on the island of Korčula features four bedrooms, three bathrooms, and an array of terraces. Think 5* luxury as you explore the classic yet stylishly decorated 319 square meters of interior space spread over a plot of 811 square meters in total. Amazing house with boat docks is sitting in a peaceful surrounding and this property boasts huge rooms, a home office, and verandas looking out to the Mediterranean-style garden with a private entrance to the sea only a few steps away. Outdoor living space with terraced patios, a built-in BBQ, and the flat lawn is perfect for a pool, should you wish. There is a spacious 100 square meters basement – also usable as a wine cellar. This sprawling, authentic Croatian house with mooring for sale showcases views that lighten the mind and warm the heart – step out the doors onto the panoramic terrace for a glimpse.
Waterfront Home with Private Docks in Split
Price: 5.500.000€
A unique home with boat docks located in the Split region is a type of Mediterranean luxury home everybody would love to own. Spanning across a 1500m2 plot with 980 m2 living area, the luxury villa is spanning over three floors. This unique house with mooring for sale, sophisticated Mediterranean home is covered in indigenous Brač stone, the floors are coated in teak and high-quality ceramics, while each of the rooms has floor heating. The courtyard of the villa has a heated outdoor pool, a sunbathing area, and an outdoor shower. A large garden is cultivated and decorated with various fruit trees, palms and it is leading directly to the private entrance to boat docks and beach. The spacious ground floor contains a large bedroom with a private bathroom and beautiful terrace, dining room, living room with fireplace, essential spa area with hammam, Russian sauna, small indoor pool, and bathroom. On the first floor of the luxury villa, there is a beautifully furnished kitchen-dining room, living room with fireplace, private bathroom, and a large terrace connected to the barbecue area. While on the second floor there is a bedroom with a large bathroom and walk-in closets, two children's rooms with their own bathroom, and walk-in closets.
Home with Boat Docks on Hvar Island Cliffs
Price: 1.500.000€
Are you looking for an island house with mooring for sale? Surrounded by ancient woodland and sitting on the Hvar Island, this magnificent house is an amazing spot to anchor your boat on the docks or enjoy the long summer days across the Dalmatian archipelago. Perched on the cliffs on Hvar and isolated from the crowd, the house has wide access to the pebble beach! There are four bedroom suites, a bathroom, and a large living room and kitchen area. Neutral interiors have been used to great effect, allowing new owners to fully dress and color the interior according to their own palettes.
Villa with Boat Docks on Čiovo near Split
Price: 2.100.000€
Prestigious and elegant villa with boat docks located in the heart of the Dalmatian coast is overlooking the bay of Split. The property is recently built, offering a contemporary and refined design, associated with the use of the most modern technologies, and the extraordinary ability to choose materials that are valuable, but at the same time functional! Located on a plot of land of 700 square meters, the modern villa has three floors designed to create a unique experience for multiple occasions. The ground floor has a large living room, framed by the large glass walls-additional exit to the outdoor terrace. Next to the living room, there is a kitchen and dining room, one guest toilet, two comfortable bedrooms with double beds, and private bathrooms with a shower. One of the rooms has the access to the terrace with a swimming pool! The second and the third floor are designed as a sleeping and resting zone including 3 bedrooms with private bathrooms, an indoor swimming pool, hot tub, and sauna. The peculiarity of the outdoor spaces of the property, in addition to the generously sized swimming pools, is a wonderful gazebo from which you can enjoy a priceless view of the sea!
Seafront House with Boat Docks in Korčula
Price: 1.900.000€
This seven-bedroom detached stone house with boat docks is only a few steps away from the sea, and conveniently just 10 minutes from Vela Luka. Among the wide selection, when choosing a house with mooring for sale, this property is the best return on investment! Set in a 1614 square meters estate, the residence is spread over 450 square meters, with seven bedrooms with private bathrooms, one additional toilet, and extensive indoor/outdoor living space. The modern and airy property boasts solar heating, lots of outdoor terrace space, and wonderful sea views. It offers a master suite with a two-story closet and access to a massive slate sun deck. A pool for dipping in and lounging around, an alfresco-covered dining area, terraces, and decks galore plus a two-car garage. Among all seafront homes with boat docks, this villa infuses the sensation of the infinity between the indoor and outdoor with its high, floor-to-ceiling windows.
Want to be inspired by more houses in Croatia? Read our Inside the Luxury Homes in Dubrovnik article!